Tadah Alas Traditional House of Banjar Tribe in South Kalimantan - Indonesia
---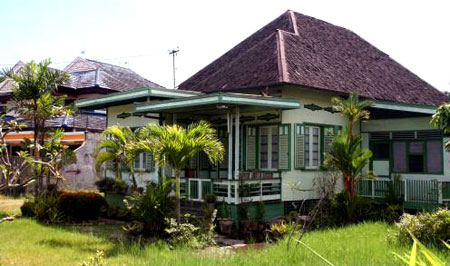 The fact is that Banjar Regency owns various types of traditional houses. It is a good thing for tourists indeed. Those who come to Banjar can take pictures of those houses and learn the history as well. So, what are they? One of them is called Tadah Alas, which is the development of Balai Bini traditional house. One thing that makes it different is that Tadah Alas features another layer of "Perisai" roof on its canopy. This also explains why the house is called "Tadah Alas"! Aside from this unique feature, the house has other noticeable characteristics too. These include the rooms and design.
The Nuance
At a glance, Tadah Alas looks like a regular house. It even features a park in the yard with several plants. What about the construction? The house consists of several rooms including Pamedangan Kecil, Paluaran, Palidangan (located between two Anjungs), and Padapuran. Have no worries. Tourists are allowed to explore the house and visit all the rooms freely. When it comes to the roof, it features Jurai Roof that comes with an extra layer. In terms of appearance, it resembles Balai Bini House!
Exploring Tadah Alas Traditional House
Most tourists are attracted to Tadah Alas Traditional House due to the design. That means they would explore the house and take some pictures of it once they arrive at the site. In terms of appearance, the house has undergone several developments over time. In the past, it only features the rectangular shape and elongates from the front to back. There was also Gajah Roof on the front part of the house. Not to mention another layer covered such roof, looking like a shield.
What tourists can see these days is the developed version of Tadah Alas Traditional House, though. What is the difference? As mentioned before, it gets extra rooms on the sides. The locals call them "Anjung" and they are installed symmetrically. There is even another version which is called Baanjung Pisang Sasikat, featuring Sengkuap Roof that covers both the rooms. For tourists, though, it seems daunting to differentiate those houses. In this case, they need to hire a local guide. This person helps them to get better information and explanation regarding the house, for sure.
Photography and exploration become two common activities done by tourists once they arrive at the site. Therefore, visitors should not forget to carry a camera when heading to Banjar. Another consideration is that they must not litter on the site. It is important to take care of environment during a vacation, after all.
Nearby Attractions
Pengaron Lake
Simpang Empat Lake
Biru Lake
Matang Kaladan Hill
Sidodadi Pond
Caramin Lake
Pine Island
Batu Hapu Cave
How to Get There
For those coming from Jakarta City, they can take a plane in Soekarno-Hatta Airport and head to Samarinda first. Next, they need to take another flight and visit Banjar Regency (Syamsudin Nor Airport). The whole trip takes approximately 52 hours, as the distance is 1546 km. Thus, make sure to come with a good stamina before going.
Where to Stay
Novotel Hotel
Swiss-Belhotel
Rodhita Hotel
Grand Dafam Q Hotel
Shangrilla Hotel
Permata Hotel

Latest News
  Gedambaan beach is known as Sarang Tiung beach, it located 14km from downtown of Kotabaru. Along the path to the beach, there will be exotic sightseeing like mountains view at the right side and ocean, beach and fisherman village at the left side. There are Bugis and Mandar Village community that coming from south Sulawesi as the immigrant. Gedambaan beach is the right choice for those who want to enjoy white sandy beach. This beach is administratively located in Gedambaan village, Pulau Laut Utara sub-district. There are restaurants, cottage…
---
Borneo Eco Trekking is the leading tour operator in Borneo of Indonesia. It is home for highly motivated people of Borneo in adventure and concerning for potential attractions of the nature and culture of the mighty island. However, they are great adventurers with zero accident experience. They have been boating their Borneo rivers, rafting their Borneo rapids, diving Borneo sea-beds, caving Borneo caves, trekking the Borneo jungles, hiking the Borneo hills, climbing Borneo mountains, and wandering Borneo wilderness tremendously. They dig further into the interior and interacting with the inlanders…
---
Bajuin Waterfall Bajuin waterfall is located in the Meratus mountain slopes. Not far from the waterfall, there is marble cave or Goa Marmer, it approximately ± 30 min by walking. This cave is unique because there are many cave wall marble that usually used for home tiles and form the cave like a dome of the mosque; in the cave, there are also lived by the nocturnal life of bats. This waterfall is located in Sei village, Bakar river, Pelainhari subdistrict, Tanah laut regency, South Kalimantan. www.Indonesia-Tourism.com
---
Radap Rahayu Dance Radap Rahayu traditional dance is the original dance from South Kalimantan. This dance is telling about the angels that falling from the sky and brought the wisdom of goodness for the people on Earth. Hence, this traditional dance is having purpose to be the thanksgiving and prayer, in order to make everything done well. Nowadays, this classic Banjar's dance is used to welcome the guest of honor that presented in wedding ceremony. The dancers are exclusively brought by women dancers. The numbers of the dancers are about…
---