Gajah Manyusu Traditional House of Martapura Sub-District, Banjar Regency - Indonesia
---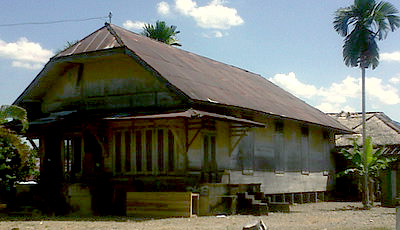 Banjar Regency belongs to South Kalimantan Province and it has become a new interesting tourist destination these days. What is the reason? People are attracted to the local culture and numerous types of traditional houses of the region, actually. One of the most famous ones is called Gajah Manyusu Traditional House. In a nutshell, it is the collective name of Banjar local houses, featuring a prime building with a stump shield roof. Not only the house becomes a unique object for sightseeing, it also becomes a wonderful object for photography!
The Nuance
It is true that Gajah Manyusu Traditional House has distinct characteristics as compared to others. For instance, it comes with a pyramid-shaped mansard roof in the front part of the house. The other sides feature different types of roofs, though, which are Sindang Langit and Pisang Sasikat. The house also features stairs, so that people can get to the house easily. In terms of materials, it only features traditional materials like woods and bamboos. In the yard, tourists may find dry grasses as well. In terms of nuance, it feels peaceful as villagers are rarely seen outside the house.
Exploring Gajah Manyusu Traditional House
For tourists, Gajah Manyusu Traditional House provides many benefits to them. For example, it gives valuable information regarding the history. It is said only the mainline lineage of Sultan Banjar were allowed to stay in this house. Simply said, it was the house of the future kings! No wonder, the house emits an elegant aura and looks different than others. The local government even applies the design to some of the government buildings in Banjar Regency, in fact.
Aside from learning the history of the house, tourists are allowed to explore and witness the structure directly. Gajah Manyusu features several rooms, after all. First, tourists may encounter Surambi Sambutan or an open space or terrace. The next room is called Pamedangan or Palatar. It is half open and half closed, actually. Next, there is Paluaran or the living room. The room is wide, so visitors would feel comfortable inside. They can rest for a while here if they want, before continuing the exploration.
What is next? After reaching the living room, tourists may find Palidangan or Ambin Dalam (located between the left and right Anjung). The last room to explore is none other than Padapuran or kitchen (pantry). In a nutshell, it has a similar structure and composition to regular houses. One thing that makes it different is indeed its design and historical value.
Nearby Attractions
Prince Muhammad's Tomb
Albasia Park
Zalecha Square
Pelangi Village
Lentera Hill
Selamat Datang Monument
Bincau Fishing Pond
Gemstone Craft Center
Embroidery Crafts Center
How to Get There
For those coming from Martapura City, they can simply head to local villages and see Gajah Manyusu Traditional House right away. The nearby village is located about 6.8 km from Martapura, actually. That means it takes about 25 minutes to get there. Make sure to take Melati Street, though.
Where to Stay
Raudhatul Husna Hotel
Yudilesmana Hotel
Lerina Inn
Riawahyudi Hotel
Ratu Elok Hotel
Diah Hotel

Latest News
  Gedambaan beach is known as Sarang Tiung beach, it located 14km from downtown of Kotabaru. Along the path to the beach, there will be exotic sightseeing like mountains view at the right side and ocean, beach and fisherman village at the left side. There are Bugis and Mandar Village community that coming from south Sulawesi as the immigrant. Gedambaan beach is the right choice for those who want to enjoy white sandy beach. This beach is administratively located in Gedambaan village, Pulau Laut Utara sub-district. There are restaurants, cottage…
---
Borneo Eco Trekking is the leading tour operator in Borneo of Indonesia. It is home for highly motivated people of Borneo in adventure and concerning for potential attractions of the nature and culture of the mighty island. However, they are great adventurers with zero accident experience. They have been boating their Borneo rivers, rafting their Borneo rapids, diving Borneo sea-beds, caving Borneo caves, trekking the Borneo jungles, hiking the Borneo hills, climbing Borneo mountains, and wandering Borneo wilderness tremendously. They dig further into the interior and interacting with the inlanders…
---
Bajuin Waterfall Bajuin waterfall is located in the Meratus mountain slopes. Not far from the waterfall, there is marble cave or Goa Marmer, it approximately ± 30 min by walking. This cave is unique because there are many cave wall marble that usually used for home tiles and form the cave like a dome of the mosque; in the cave, there are also lived by the nocturnal life of bats. This waterfall is located in Sei village, Bakar river, Pelainhari subdistrict, Tanah laut regency, South Kalimantan. www.Indonesia-Tourism.com
---
Radap Rahayu Dance Radap Rahayu traditional dance is the original dance from South Kalimantan. This dance is telling about the angels that falling from the sky and brought the wisdom of goodness for the people on Earth. Hence, this traditional dance is having purpose to be the thanksgiving and prayer, in order to make everything done well. Nowadays, this classic Banjar's dance is used to welcome the guest of honor that presented in wedding ceremony. The dancers are exclusively brought by women dancers. The numbers of the dancers are about…
---