Bamboo Rafting in Amandit River, South Kalimantan Province - Indonesia
---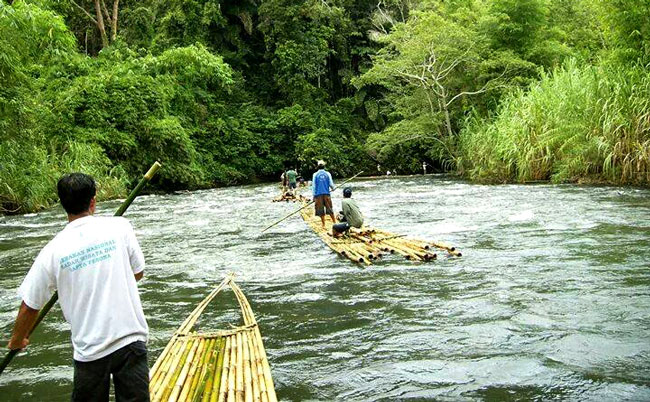 Nature tourism keeps boredom and stresses away. Moreover, tourists have many options when it comes to an adventure and exploration. For those visiting South Kalimantan Province, they should never miss the opportunity to visit Amandit River, which is the home of a famous activity called bamboo rafting. The location is in Loksado Sub-District and belongs to South Hulu Sungai Regency. As the name suggests, this activity involves a bamboo raft instead of an inflatable boat. No wonder, it feels more challenging for tourists. Not to mention it becomes a new experience for everyone.
The Nuance
In terms of nuance, Amandit River has a distinct characteristic as compared to other rivers (especially those that reside in Sumatra and Java Island). The size is moderate, but it has clear water. Plus, the river is surrounded by lush trees and pristine environment. During rafting, tourists may also see several traditional houses of Dayak Tribe who lives in Meratus Mountains. When it comes to the cascades, it is moderate. That means it won't be challenging if tourists use an inflatable boat to explore the river. On the other hand, it feels so thrilling if they ride a bamboo raft!
Enjoying Bamboo Rafting in Amandit River
Some people may wonder how to ride such bamboo raft. Have no worries. They won't ride it alone, as jockeys are available to help them later. Moreover, they have both the skill and experience regarding bamboo rafting. These people use a bamboo pole to navigate the raft! They look swift and experienced, so tourists can enjoy such activity comfortably. On top of that, the fee is quite cheap despite the time of visit.
In terms of size, the bamboo raft has the length of about 3 meters and it has the width of 1 meter. That means a raft can accommodate about 4 people, including the jockey. In the middle of the raft, tourists may find a pile of bamboos used as a bench. Here is the challenge. There is no grip or ropes, so everyone should depend on their balance in order to avoid getting thrown into the water. Fortunately, some buoys are available for tourists to use when they fall into the water.
During rafting, tourists may encounter several stones and moderate cascades. Despite the challenging experience, the raft is considered safe due to its size. Plus, the jockey is quite experienced. As for the tip, it is recommended to carry a camera while rafting. Tourists can take beautiful pictures while exploring the river, including natural attractions and activities of Dayak Meratus Tribe on the riverside. The endpoint is Tanuhi Village, actually. It is the home of a natural hot spring, so make sure to take a bath there.
Nearby Attractions
Meratus Mount
Malaris Waterfall
Meratus Mountains
Tanuhi Hot Spring
How to Get There
From Martapura City, a trip to Amandit River may take about 2 hours and 50 minutes. It is because the distance is 124 km. The first destination is indeed South Hulu Sungai Regency. Next, tourists need to visit Laksado Sub-District and reach the river directly. A post where tourists can rent the bamboo rafts resides there.
Where to Stay
Alam Roh Tujuh Resort
Bambu Inn
Amandit Guesthouse
Gumbil Hotel

Latest News
  Gedambaan beach is known as Sarang Tiung beach, it located 14km from downtown of Kotabaru. Along the path to the beach, there will be exotic sightseeing like mountains view at the right side and ocean, beach and fisherman village at the left side. There are Bugis and Mandar Village community that coming from south Sulawesi as the immigrant. Gedambaan beach is the right choice for those who want to enjoy white sandy beach. This beach is administratively located in Gedambaan village, Pulau Laut Utara sub-district. There are restaurants, cottage…
---
Borneo Eco Trekking is the leading tour operator in Borneo of Indonesia. It is home for highly motivated people of Borneo in adventure and concerning for potential attractions of the nature and culture of the mighty island. However, they are great adventurers with zero accident experience. They have been boating their Borneo rivers, rafting their Borneo rapids, diving Borneo sea-beds, caving Borneo caves, trekking the Borneo jungles, hiking the Borneo hills, climbing Borneo mountains, and wandering Borneo wilderness tremendously. They dig further into the interior and interacting with the inlanders…
---
Bajuin Waterfall Bajuin waterfall is located in the Meratus mountain slopes. Not far from the waterfall, there is marble cave or Goa Marmer, it approximately ± 30 min by walking. This cave is unique because there are many cave wall marble that usually used for home tiles and form the cave like a dome of the mosque; in the cave, there are also lived by the nocturnal life of bats. This waterfall is located in Sei village, Bakar river, Pelainhari subdistrict, Tanah laut regency, South Kalimantan. www.Indonesia-Tourism.com
---
Radap Rahayu Dance Radap Rahayu traditional dance is the original dance from South Kalimantan. This dance is telling about the angels that falling from the sky and brought the wisdom of goodness for the people on Earth. Hence, this traditional dance is having purpose to be the thanksgiving and prayer, in order to make everything done well. Nowadays, this classic Banjar's dance is used to welcome the guest of honor that presented in wedding ceremony. The dancers are exclusively brought by women dancers. The numbers of the dancers are about…
---