Sultan Adam Forest in Cempaka Sub-District, Banjar Regency - Indonesia
---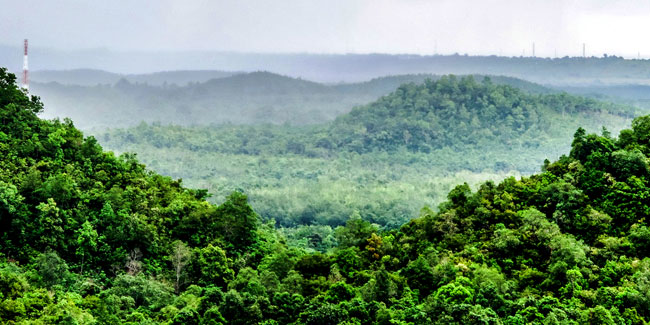 A forest park can satisfy tourists' necessities when it comes to an adventure. In this case, what they need is a good place to visit. In Banjar Regency, for example, there is Sultan Adam Forest Park. The location is in West Mandiangin Village and it belongs to Cempaka Sub-District. Actually, it is part of two regencies (Banjar and Tanah Laut). In terms of name, it is inspired by the name of Banjar's Sultan called Adam Al-Watsiq Billah. He ruled Banjar between 1825 and 1857, actually. Today, the site has become one of the best vacation destinations among those who visit Banjar Regency in Indonesia.
The Nuance
Actually, Sultan Adam Forest Park is a combination of 4 distinct forests. These include Kinain Buak, Riam Kanan, Unlam, and Pelaihari Forest. In terms of size, it is approximately 112,000 hectares! Despite such wide size, tourists can easily find the entrance of the forest though. There is even a gate, so everyone would notice it right away. The thing is that visitors should pay the entry fee before entering the forest, including the kids. Once getting inside, lush trees and pristine nuance may welcome tourists directly!
Exploring Sultan Adam Forest
Once arriving at Sultan Adam Forest Park, tourists can do several things including learning trivia regarding the site. According to the keeper and villagers, the forest has a significant role in the environment. For example, the trees that grow on the forest help retain the water discharge of Riam Kanan Lake. The local government takes advantage of the lake to generate electricity, after all. Not to mention those trees help prevent flood and erosion. Plus, it becomes the "lung" of nature, helping reducing air pollutant.
The next reason why many people come to Sultan Adam Forest is none other than to witness various floras that grow in it. For instance, there are Ulin, Laban, Pampahi, Tarap, and much more! With such various kinds of trees, lots of animals also live peacefully there. These include deer, wild chicken, proboscis monkey, Bornean gibbon, and many others. If tourists are quite lucky, they may meet all those animals when exploring the forest. Therefore, it is recommended to carry a camera during the visit in Indonesia.
The good thing is that tourists can find numerous natural attractions in Sultan Adam Forest. Mandiangin Waterfall is one of them. Thus, make sure to drop by to the falls during exploration. Another popular activity to do in the forest park is definitely camping. In this case, tourists should have prepared the tent and other equipment beforehand. Also, it is better to do such activity with friends or families.
Nearby Attractions
Origami Park
Matang Keladan Hill
Martapura City
Ratu Zalecha Square
Agriboster / Lentera Hill
How to Get There
From Martapura City in Indonesia, it takes about 1 hour and 40 minutes to get to Sultan Adam Forest. The distance is 38.5 km, after all. For a faster trip, it is recommended to take Mistar Cokrokusumo Street. First, people need to reach Cempaka Sub-District. Next, what they need to do is to visit West Mandiangin Village and enter the forest from the available gate.
Where to Stay
Padjio Hotel
Riawahyudi Hotel
Ratu Elok Hotel
Rahmi Zain Hotel


Latest News
  Gedambaan beach is known as Sarang Tiung beach, it located 14km from downtown of Kotabaru. Along the path to the beach, there will be exotic sightseeing like mountains view at the right side and ocean, beach and fisherman village at the left side. There are Bugis and Mandar Village community that coming from south Sulawesi as the immigrant. Gedambaan beach is the right choice for those who want to enjoy white sandy beach. This beach is administratively located in Gedambaan village, Pulau Laut Utara sub-district. There are restaurants, cottage…
---
Borneo Eco Trekking is the leading tour operator in Borneo of Indonesia. It is home for highly motivated people of Borneo in adventure and concerning for potential attractions of the nature and culture of the mighty island. However, they are great adventurers with zero accident experience. They have been boating their Borneo rivers, rafting their Borneo rapids, diving Borneo sea-beds, caving Borneo caves, trekking the Borneo jungles, hiking the Borneo hills, climbing Borneo mountains, and wandering Borneo wilderness tremendously. They dig further into the interior and interacting with the inlanders…
---
Bajuin Waterfall Bajuin waterfall is located in the Meratus mountain slopes. Not far from the waterfall, there is marble cave or Goa Marmer, it approximately ± 30 min by walking. This cave is unique because there are many cave wall marble that usually used for home tiles and form the cave like a dome of the mosque; in the cave, there are also lived by the nocturnal life of bats. This waterfall is located in Sei village, Bakar river, Pelainhari subdistrict, Tanah laut regency, South Kalimantan. www.Indonesia-Tourism.com
---
Radap Rahayu Dance Radap Rahayu traditional dance is the original dance from South Kalimantan. This dance is telling about the angels that falling from the sky and brought the wisdom of goodness for the people on Earth. Hence, this traditional dance is having purpose to be the thanksgiving and prayer, in order to make everything done well. Nowadays, this classic Banjar's dance is used to welcome the guest of honor that presented in wedding ceremony. The dancers are exclusively brought by women dancers. The numbers of the dancers are about…
---