Lok Baintan Floating Market in Sungai Tabuk Sub-District, Banjar Regency - Indonesia
---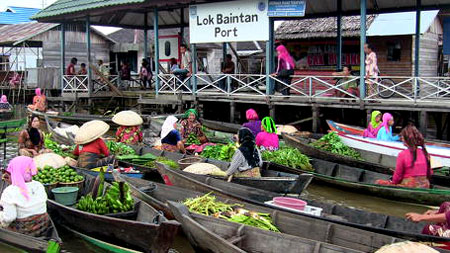 Banjar Regency offers interesting natural attractions and tourist spots for everyone. This explains why more people are interested to visit the region regardless of the vacation destination is. As for the reference, there is Lok Baintan Floating Market! This traditional market resides in Martapura River and belongs to Sungai Pinang Village. In terms of region, it is part of Sungai Tabuk Sub-District, Indonesia. At a glance, it is quite similar to that of Barito River. That means the locals sell products on a "Jukung" or traditional boat in the morning. The market only opens for about 3-4 hours daily, though.
The Nuance
The location is quite near to Lok Baintain Port, so tourists can easily reach the site without hassles. Once visitors arrive at the market, they may see tens of sellers sitting on their boats. These people sell numerous types of vegetables and other groceries (including traditional pastries and fruits). The sellers come from different places and gather on that spot. Usually, they come from Tanifah, Saka Bunut, Paku Alam, Lenge, and Madang River. Here is the basic information. The market opens early in the morning from 6 am to 9.30 am.
Exploring Lok Baintan Floating Market
Here is the fact. Lok Baintan Floating Market has been there since the reign of Banjar Kingdom of Indonesia. It has become a culture and lured many tourists over time! Another important fact is that the sellers are dominated by women and wear "Tanggui" (a local headgear) too. Like regular activities in a market, these people sell numerous groceries to local buyers and tourists. However, a barter system still applies here. That means buyers can simply trade their groceries to get other types of products from the sellers!
For people who live in Banjar Regency, the floating market is considered a regular place where they can buy or sell products. However, for tourists, this unique place is worth to visit. Not only visitors can witness a unique way of selling groceries, they also can buy those items as well! It would be an interesting experience for travelers indeed. Plus, taking pictures is allowed so tourists can use the camera to collect interesting photos while exploring the market.
The best time to visit Lok Baintan Floating Market is definitely in the early morning. The peak is between 6 and 7 am, actually. At the time, both sellers and buyers gather there so it becomes a unique nuance for tourists to witness. Also, the market becomes more crowded during the harvest season! Another tip is that tourists should come in Fridays when the market is the most crowded.
Nearby Attractions
Lok Baintan Suspension Bridge
Kapal Klotok Pier
How to Get There
Tourists can either take a land or river transportation service to get to Lok Baintan Floating Market. By vehicles, they need to spend about 1 hour and 20 minutes to reach Sungai Pinang Village. The distance is 36.1 km and the best route to take is Martapura Lama Street. If they go by boat, it only takes about 30 minutes to get to the floating market.
Where to Stay
Aida Hotel
Airy Hotel
Bee Hotel

Latest News
  Gedambaan beach is known as Sarang Tiung beach, it located 14km from downtown of Kotabaru. Along the path to the beach, there will be exotic sightseeing like mountains view at the right side and ocean, beach and fisherman village at the left side. There are Bugis and Mandar Village community that coming from south Sulawesi as the immigrant. Gedambaan beach is the right choice for those who want to enjoy white sandy beach. This beach is administratively located in Gedambaan village, Pulau Laut Utara sub-district. There are restaurants, cottage…
---
Borneo Eco Trekking is the leading tour operator in Borneo of Indonesia. It is home for highly motivated people of Borneo in adventure and concerning for potential attractions of the nature and culture of the mighty island. However, they are great adventurers with zero accident experience. They have been boating their Borneo rivers, rafting their Borneo rapids, diving Borneo sea-beds, caving Borneo caves, trekking the Borneo jungles, hiking the Borneo hills, climbing Borneo mountains, and wandering Borneo wilderness tremendously. They dig further into the interior and interacting with the inlanders…
---
Bajuin Waterfall Bajuin waterfall is located in the Meratus mountain slopes. Not far from the waterfall, there is marble cave or Goa Marmer, it approximately ± 30 min by walking. This cave is unique because there are many cave wall marble that usually used for home tiles and form the cave like a dome of the mosque; in the cave, there are also lived by the nocturnal life of bats. This waterfall is located in Sei village, Bakar river, Pelainhari subdistrict, Tanah laut regency, South Kalimantan. www.Indonesia-Tourism.com
---
Radap Rahayu Dance Radap Rahayu traditional dance is the original dance from South Kalimantan. This dance is telling about the angels that falling from the sky and brought the wisdom of goodness for the people on Earth. Hence, this traditional dance is having purpose to be the thanksgiving and prayer, in order to make everything done well. Nowadays, this classic Banjar's dance is used to welcome the guest of honor that presented in wedding ceremony. The dancers are exclusively brought by women dancers. The numbers of the dancers are about…
---