Gajah Baliku Traditional House of Banjar Regency, South Kalimantan - Indonesia
---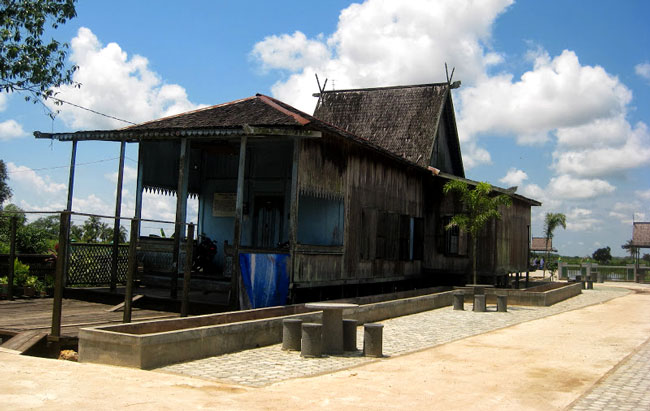 What can tourists do to learn the culture of a particular region? Aside from witnessing local traditions and dances, they can simply explore a traditional house. In Banjar Regency Indonesia, for example, there is Gajah Baliku Traditional House. In terms of appearance, it is similar to Bubungan Tinggi. One thing that makes it different is the inexistence of tiered floor on its exterior. Also, there is no Sengkuap roof. Instead, this house features Gajah roof or a shield-shaped roof. With such characteristics, tourists are interested to learn more about the house and explore it thoroughly.
The Nuance
At a glance, Gajah Baliku Traditional House looks like a regular house. However, it has an aesthetic value and becomes a better object of photography. The house is made of woods and it doesn't feature any modern materials. In fact, its exterior part doesn't have any paint on it. That means the house looks archaic and unique. In terms of ornaments, the owner of the house usually grows small plants near to the house. Inside, tourists may find several traditional ornaments of South Kalimantan Province sometimes.
Exploring the House
It is fun to explore a traditional house like Gajah Baliku, isn't it? The only problem is that tourists need to give more efforts to witness it. It is because many houses have become extinct due to old age and other reasons. Only a few of them remain, so it is a little bit hard to find the location. One of them is located in Teluk Selong Ulu Village, West Martapura Sub-District. It is perhaps the most recommended location to witness and explore the house for tourists. In terms of age, the house has been there more than 150 years!
After arriving at the site, tourists need to approach the owner first. It is to decide whether they are allowed to get in and explore the building or not. Have no worries. The owner is friendly so she is likely to allow tourists to enter the house. Inside, lots of old furniture resides including Malawin plates, jars, brass basin, paintings, ancient luggage, and many others. It is a little bit surprising that some modern appliances are also seen there including TV, gas stove, DVD player, etc.
In terms of structure, the house is made of ironwood. It looks sturdy despite the age, though. When entering the terrace, tourists may see the main door ornamented with beautiful carvings. Inside, the living room is spacious and it features old furniture as well. On the wall, many photos of the residents are hung. One thing, make sure to get accompanied by the owner when exploring the house.
Nearby Attractions
Prince Muhammad's Tomb
Albasia Park
Zalecha Square
Pelangi Village
Lentera Hill
Selamat Datang Monument
Bincau Fishing Pond
Gemstone Craft Center
Embroidery Crafts Center
How to Get There
From Martapura City in Indonesia, tourists should head to the closest village. It may take about 25 minutes, as the distance is around 7 km. For a faster trip, it is recommended to take Melati Street. As for the tour guide service, tourists can either take it or not. Somehow, such service helps them to acquire information better regarding the house.
Where to Stay
Raudhatul Husna Hotel
Yudilesmana Hotel
Lerina Inn
Riawahyudi Hotel
Ratu Elok Hotel
Diah Hotel

Latest News
  Gedambaan beach is known as Sarang Tiung beach, it located 14km from downtown of Kotabaru. Along the path to the beach, there will be exotic sightseeing like mountains view at the right side and ocean, beach and fisherman village at the left side. There are Bugis and Mandar Village community that coming from south Sulawesi as the immigrant. Gedambaan beach is the right choice for those who want to enjoy white sandy beach. This beach is administratively located in Gedambaan village, Pulau Laut Utara sub-district. There are restaurants, cottage…
---
Borneo Eco Trekking is the leading tour operator in Borneo of Indonesia. It is home for highly motivated people of Borneo in adventure and concerning for potential attractions of the nature and culture of the mighty island. However, they are great adventurers with zero accident experience. They have been boating their Borneo rivers, rafting their Borneo rapids, diving Borneo sea-beds, caving Borneo caves, trekking the Borneo jungles, hiking the Borneo hills, climbing Borneo mountains, and wandering Borneo wilderness tremendously. They dig further into the interior and interacting with the inlanders…
---
Bajuin Waterfall Bajuin waterfall is located in the Meratus mountain slopes. Not far from the waterfall, there is marble cave or Goa Marmer, it approximately ± 30 min by walking. This cave is unique because there are many cave wall marble that usually used for home tiles and form the cave like a dome of the mosque; in the cave, there are also lived by the nocturnal life of bats. This waterfall is located in Sei village, Bakar river, Pelainhari subdistrict, Tanah laut regency, South Kalimantan. www.Indonesia-Tourism.com
---
Radap Rahayu Dance Radap Rahayu traditional dance is the original dance from South Kalimantan. This dance is telling about the angels that falling from the sky and brought the wisdom of goodness for the people on Earth. Hence, this traditional dance is having purpose to be the thanksgiving and prayer, in order to make everything done well. Nowadays, this classic Banjar's dance is used to welcome the guest of honor that presented in wedding ceremony. The dancers are exclusively brought by women dancers. The numbers of the dancers are about…
---