Jomblo House in Banjarbaru City, South Kalimantan Province - Indonesia
---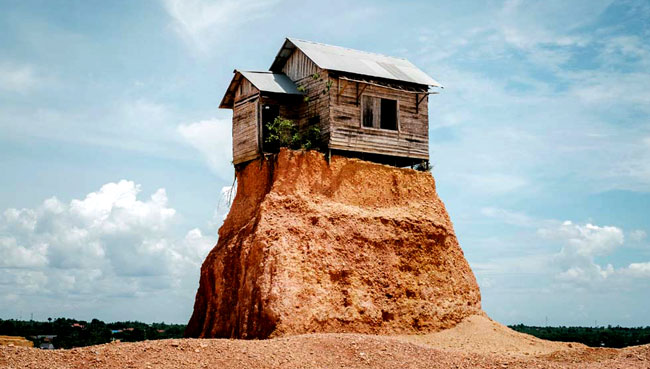 A famous romantic-funny animation created by Pixar, UP, indeed has inspired many people worldwide. Well, the iconic house that flies and lands on a hill becomes the most memorable thing of the movie, no? Here is the thing. Tourists can find a similar house in Banjarbaru City! The name is Jomblo House and it belongs to Cempaka Sub-District. "Jomblo" means single, actually. As tourists may expect, the house resides alone on a hill and it looks similar to that of the animation. At the first time, it was not that popular. However, tourists keep posting the photo on social media sites. No wonder, it becomes more famous these days.
The Nuance
One thing, tourists can only watch Jomblo House from below or afar. That means they are not able to enter it at all. The house resides in a red mound of soil and located in Kesatrian Secaba residential. What about the nuance? On the site, visitors may also find several small trees and wild plants. The house is made of woods and it looks quite fragile & old. Not to mention the size is small. Well, with such regular appearance and simple architecture, perhaps some people may overlook it. Its seclusion and location make it unique and interesting, though.
Exploring Jomblo House
What can tourists do on the site? Well, it is none other than to witness such unique house. No other buildings reside near to the house. It makes it popular among tourists, though. If visitors look further, some houses are being built by a developer below the site. What is more? The next interesting object to witness is the nearby scenery. Tourists can enjoy hilly landscape and beautiful natural views from there. Do not forget to take pictures as well!
The only disappointing thing is that the house is not accessible. No stairs or other accesses are available, so tourists are not able to climb or enter the house. In fact, according to the locals, no one has ever entered the building except the former occupants. If tourists come with a local guide, they can definitely learn the history of Jomblo House! In a nutshell, it is the only building (that survives due to land development) in that area. The developer dug the land in order to build a residential area below the location. They left this house somehow.
When it comes to popularity, Jomblo House gets more visitors during weekends and holidays. These people come to the site to take pictures and learn information regarding the house. Still, some of them enjoy the trekking experience. After all, it takes some time and effort to get to the site. Visitors should pass through a hill and steep landscape. The soil even becomes slippery and wet during the rainy season, so everyone should be careful during trekking.
Nearby Attractions
Caramin Lake
Banjarbaru City
Origami Park
Galuh Cempaka Lake
How to Get There
A trip to Jomblo House starts from Martapura City. The distance is 10.6 km, so tourists may spend about 30-45 minutes to get there. The first destination is Banjarbaru City and tourists can reach Cempaka Sub-District afterward. As for the best route, it is none other than Ahmad Yani Street.
Where to Stay
Rahmin Zain Hotel
Chairin Sentosa Hotel
Ratu Elok Hotel

Latest News
  Gedambaan beach is known as Sarang Tiung beach, it located 14km from downtown of Kotabaru. Along the path to the beach, there will be exotic sightseeing like mountains view at the right side and ocean, beach and fisherman village at the left side. There are Bugis and Mandar Village community that coming from south Sulawesi as the immigrant. Gedambaan beach is the right choice for those who want to enjoy white sandy beach. This beach is administratively located in Gedambaan village, Pulau Laut Utara sub-district. There are restaurants, cottage…
---
Borneo Eco Trekking is the leading tour operator in Borneo of Indonesia. It is home for highly motivated people of Borneo in adventure and concerning for potential attractions of the nature and culture of the mighty island. However, they are great adventurers with zero accident experience. They have been boating their Borneo rivers, rafting their Borneo rapids, diving Borneo sea-beds, caving Borneo caves, trekking the Borneo jungles, hiking the Borneo hills, climbing Borneo mountains, and wandering Borneo wilderness tremendously. They dig further into the interior and interacting with the inlanders…
---
Bajuin Waterfall Bajuin waterfall is located in the Meratus mountain slopes. Not far from the waterfall, there is marble cave or Goa Marmer, it approximately ± 30 min by walking. This cave is unique because there are many cave wall marble that usually used for home tiles and form the cave like a dome of the mosque; in the cave, there are also lived by the nocturnal life of bats. This waterfall is located in Sei village, Bakar river, Pelainhari subdistrict, Tanah laut regency, South Kalimantan. www.Indonesia-Tourism.com
---
Radap Rahayu Dance Radap Rahayu traditional dance is the original dance from South Kalimantan. This dance is telling about the angels that falling from the sky and brought the wisdom of goodness for the people on Earth. Hence, this traditional dance is having purpose to be the thanksgiving and prayer, in order to make everything done well. Nowadays, this classic Banjar's dance is used to welcome the guest of honor that presented in wedding ceremony. The dancers are exclusively brought by women dancers. The numbers of the dancers are about…
---