Palimasan House of Banjar Regency, South Kalimantan Province - Indonesia
---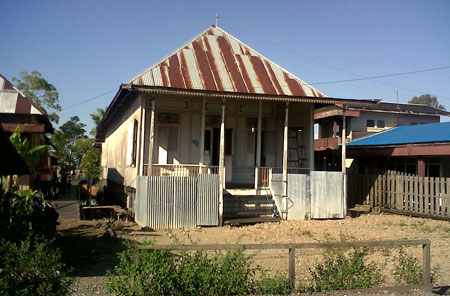 Banjar Regency should be everyone's destination for their next vacation in Indonesia. It is located in South Kalimantan Province and offers numerous attractions to tourists, including culture and nature tourism. Those who are interested in culture should consider exploring various types of traditional houses as well. For example, there is Palimasan House. It offers an interesting shape and has several distinct characteristics as compared to others. Due to such uniqueness, tourists can take advantage of the house as the background for their photography for sure. Not to mention they can also learn the value and meaning of the structure of the house, as well.
The Nuance
As mentioned before, Palimasan House belongs to Indonesia that has distinct characteristics that make it unique. The most noticeable one is the pyramid-shaped roof. "Limas" means pyramid, after all. This is the reason why the house got its name. The roof covers all the rooms beautifully, including Surambi Pamedangan Room. In terms of material, the house is made of woods. When it comes to the structure, it once featured elongated rectangular shape. Read more to find further information regarding those rooms.
Exploring Palimasan House
The main allure of Palimasan House is indeed its structure or design. At a glance, the front part of the house looks similar to that of Gajah Baliku. It features Jurai roof, having "bapicik" face. Thanks to stairs located on both sides. The Pamedangan and Paluaran room becomes more spacious! Instead of featuring Pisang Sasikat, this house applies Ambin Sayup. Perhaps some tourists do not understand those terms, no? Have no worries. They can simply hire a local guide, who can explain those thoroughly. As an alternative, they can get the information from villagers and the owner of the house.
The fact is that Palimasan House has undergone several renovations over time. For example, it is related to its Bubungan Tinggi. It becomes more decent now. Not to mention the roof has changed a bit. 4 pillars support the front porch roof and 2-3 doors on the front part of the house (Lawang Hadapan). In the main porch, tourists may see Kandang Rasi or railing. What is next, there is the lower deck, which is an open room surrounded by railings.
The next room that tourists may see is called Paluaran or living room. Next, there is Palidangan or Ambin Dalam. It is flanked by Anjung Kiwa and Kanan, actually. The last room is Rumah Dapur or a pantry. Have no worries. Tourists are allowed to explore all rooms, as long as they do not cause troubles inside. Taking pictures is indeed possible! However, littering is prohibited.
Nearby Attractions
Agung Temple
Amuntai Field
Itik Monument
How to Get There
In order to witness Palimasan House, tourists should visit nearby villages that reside near to Martapura City. From the capital of Banjar Regency in Indonesia, it takes about an hour to get to a nearby settlement. In this case, make sure to take Ahmad Yani Street for a faster trip. Hiring a local guide is also recommended, actually.
Where to Stay
Amuntai Hotel
Minosa Resort Hotel
Salon Aman Atung Hotel
Mulia Hotel


Latest News
  Gedambaan beach is known as Sarang Tiung beach, it located 14km from downtown of Kotabaru. Along the path to the beach, there will be exotic sightseeing like mountains view at the right side and ocean, beach and fisherman village at the left side. There are Bugis and Mandar Village community that coming from south Sulawesi as the immigrant. Gedambaan beach is the right choice for those who want to enjoy white sandy beach. This beach is administratively located in Gedambaan village, Pulau Laut Utara sub-district. There are restaurants, cottage…
---
Borneo Eco Trekking is the leading tour operator in Borneo of Indonesia. It is home for highly motivated people of Borneo in adventure and concerning for potential attractions of the nature and culture of the mighty island. However, they are great adventurers with zero accident experience. They have been boating their Borneo rivers, rafting their Borneo rapids, diving Borneo sea-beds, caving Borneo caves, trekking the Borneo jungles, hiking the Borneo hills, climbing Borneo mountains, and wandering Borneo wilderness tremendously. They dig further into the interior and interacting with the inlanders…
---
Bajuin Waterfall Bajuin waterfall is located in the Meratus mountain slopes. Not far from the waterfall, there is marble cave or Goa Marmer, it approximately ± 30 min by walking. This cave is unique because there are many cave wall marble that usually used for home tiles and form the cave like a dome of the mosque; in the cave, there are also lived by the nocturnal life of bats. This waterfall is located in Sei village, Bakar river, Pelainhari subdistrict, Tanah laut regency, South Kalimantan. www.Indonesia-Tourism.com
---
Radap Rahayu Dance Radap Rahayu traditional dance is the original dance from South Kalimantan. This dance is telling about the angels that falling from the sky and brought the wisdom of goodness for the people on Earth. Hence, this traditional dance is having purpose to be the thanksgiving and prayer, in order to make everything done well. Nowadays, this classic Banjar's dance is used to welcome the guest of honor that presented in wedding ceremony. The dancers are exclusively brought by women dancers. The numbers of the dancers are about…
---