Sirang Island in Aranio Sub-District, Banjar Regency - Indonesia
---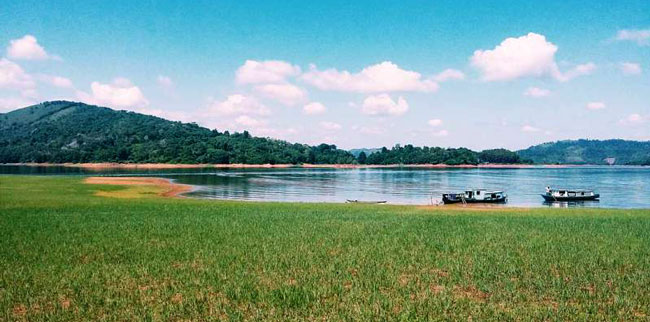 Natural tourism always attracts people. It is because tourists can get closer to nature and feel the fresh air directly. Not to mention pristine atmosphere relieves their stresses! In Banjar Regency, for example, they can visit serene Sirang Island in Indonesia. This nice place is suitable to get rid of boredom and stresses, which are accumulated due to a busy lifestyle. Not only it offers beautiful scenery, but the island also provides a soothing environment to relax. The island is located in Riam Kanan Village and it belongs to Aranio Sub-District. Have no worries. It is easy to get there, as the location is near to Martapura City, Indonesia.
The Nuance
Here is a unique fact. Instead of located in the midst of the sea, Sirang Island resides in the middle of Riam Kanan Lake. That means it is surrounded by freshwater and refreshing environment. Not to mention tourists can easily reach the island by boat from the lakeside. In terms of size, the lake is small but it offers a wonderful environment. Some trees grow on it and the island has a grassy landscape too. Plus, the air is so fresh (especially in the morning).
Exploring Sirang Island
So, what can people do in Sirang Island? The first popular activity is relaxation. That means tourists only need to sit and relax on the island and witness natural scenery peacefully. It helps them to find peace and get rid of life issues for sure. A family recreation also becomes a good idea. Spending a good time with families at such serene island is indeed quite soothing. Not to mention it helps them to build a stronger bond with them.
The next popular activity to do in Sirang Island is fishing. Even though the number of fishes living in the lake is not that many, tourists would be able to catch some for sure. The only consideration is that they must carry a fishing rod and other equipment. There is no service from where they can rent those, after all. Some spots of the lake have more fishes than others, as well. So, it is better to learn the condition first before fishing. If necessary, they should ask information from the locals regarding such spots.
Another recommended activity is none other than photography. People can capture numerous beautiful objects using their camera, including the lake, a group of trees, the grassy landscape, or even other visitors. Even selfies are quite popular there. One thing, they must come during the good weather. Otherwise, the rain may ruin the opportunity to collect those pictures.
Nearby Attractions
Pine Island
Patrabulu Hill
Mawar Mountain
Panayar Waterfall
Riam Kanan Lake
Riam Kanan Dam
How to Get There
From Martapura City in Indonesia, tourists' first destination is Aranio Sub-District. Next, they only need to head to Riam Kanan Lake and take a boat to reach the island. The whole trip takes about 45 minutes, actually. For a better experience, it is recommended to come with either friends or families. Spending a vacation with beloved people is quite meaningful, after all. 
Where to Stay
Padjio Hotel
Riawahyudi Hotel
Shangrilla Hotel

Latest News
  Gedambaan beach is known as Sarang Tiung beach, it located 14km from downtown of Kotabaru. Along the path to the beach, there will be exotic sightseeing like mountains view at the right side and ocean, beach and fisherman village at the left side. There are Bugis and Mandar Village community that coming from south Sulawesi as the immigrant. Gedambaan beach is the right choice for those who want to enjoy white sandy beach. This beach is administratively located in Gedambaan village, Pulau Laut Utara sub-district. There are restaurants, cottage…
---
Borneo Eco Trekking is the leading tour operator in Borneo of Indonesia. It is home for highly motivated people of Borneo in adventure and concerning for potential attractions of the nature and culture of the mighty island. However, they are great adventurers with zero accident experience. They have been boating their Borneo rivers, rafting their Borneo rapids, diving Borneo sea-beds, caving Borneo caves, trekking the Borneo jungles, hiking the Borneo hills, climbing Borneo mountains, and wandering Borneo wilderness tremendously. They dig further into the interior and interacting with the inlanders…
---
Bajuin Waterfall Bajuin waterfall is located in the Meratus mountain slopes. Not far from the waterfall, there is marble cave or Goa Marmer, it approximately ± 30 min by walking. This cave is unique because there are many cave wall marble that usually used for home tiles and form the cave like a dome of the mosque; in the cave, there are also lived by the nocturnal life of bats. This waterfall is located in Sei village, Bakar river, Pelainhari subdistrict, Tanah laut regency, South Kalimantan. www.Indonesia-Tourism.com
---
Radap Rahayu Dance Radap Rahayu traditional dance is the original dance from South Kalimantan. This dance is telling about the angels that falling from the sky and brought the wisdom of goodness for the people on Earth. Hence, this traditional dance is having purpose to be the thanksgiving and prayer, in order to make everything done well. Nowadays, this classic Banjar's dance is used to welcome the guest of honor that presented in wedding ceremony. The dancers are exclusively brought by women dancers. The numbers of the dancers are about…
---