Sasaringan Craft Center in Kertak Hanyar Sub-District, Banjar Regency - Indonesia
---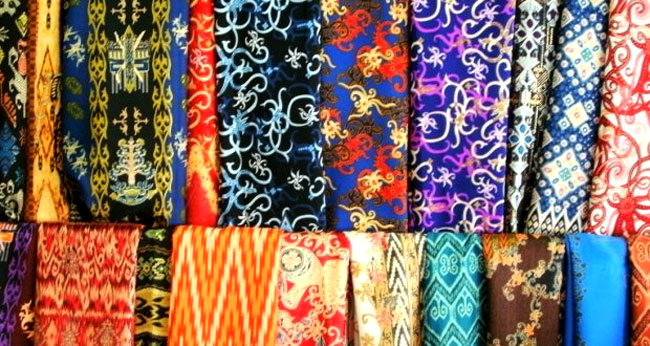 During a vacation in Indonesia, souvenirs become an important part of the trip. For those who visit Banjar Regency, in this case, the most recommended place to buy those items is Sasaringan Craft Center. The location is in Center Manarap Village and it belongs to Kertak Hanyar Sub-District, Indonesia. So, what can people buy there? The most popular item is indeed Sasaringan fabric (a famous handicraft in Banjarmasin City). Not only they can choose or buy those beautiful fabrics, but they can also see the process of the making. It would be lucky if they find a friendly crafter who would teach them how to create one.
The Nuance
Once arriving at the site, tourists may see a gate of the Sasaringan Craft Center. Most stores sell various Sasaringan fabrics there, so tourists can browse and choose one that suits their preference. What makes the fabric unique, though? The name derives from "Sirang" (the local language), which means (being tied or stitched by hands). In the past, it was used as traditional clothes during traditional ceremonies. Due to such history and aesthetic value, tourists definitely buy some when visiting the craft center!
Exploring Sasaringan Craft Center
The most noticeable landmark is indeed the gate of Sasaringan Craft Center. Have no worries. The gate is located on the roadside, so it is easy to find. For those who want to get more information and history regarding the fabric, though, it is better to come with a local guide. He can even help tourists to find the location easier. This kind of service may even help tourists to bargain and get cheaper prices of the fabric.
Before shopping, it is recommended to learn the history of the fabric. It is said Sasaringan was once used as a healing item (Pamintaan). Also, it was used as a traditional cloth including a headgear (Laung), shawl, veil, and much more. As the time went by, though, the fabric was used to create daily clothes worn by people who live South Kalimantan Province. These days, in fact, people take advantage of the fabric to make beautiful products like curtains, bed linen, handkerchief, tablecloth, etc. This explains why many tourists are interested to buy some during a vacation in Banjar Regency.
One of the most popular products sold in Sasaringan Craft Center is definitely Batik. It was made in Indonesian traditional manner, so the results are quite unique and amazing. The good thing is that tourists can find various options and designs, so they can pick one that matches their taste. When it comes to the price, it varies depending on the quality and difficulty of the design.
Nearby Attractions
Mini Vegetable Farm
Caramin Lake
Origami Park
Banjarmasin City
Pesona Modern Waterboom
How to Get There
It is easy to reach Sasaringan Craft Center. For those coming from Martapura City in Indonesia, they can take local transportation service and head to Kertak Hanyar Sub-District. The next thing to do is to reach Center Manarap Village and visit the site right away. The distance is 33.3 km, so the trip may take about 1 hour and 10 minutes. As for the best route, it is Martapura Lama Street.
Where to Stay
Bambu Guesthouse
Bumi Banjar Hotel
Aston Banua Hotel


Latest News
  Gedambaan beach is known as Sarang Tiung beach, it located 14km from downtown of Kotabaru. Along the path to the beach, there will be exotic sightseeing like mountains view at the right side and ocean, beach and fisherman village at the left side. There are Bugis and Mandar Village community that coming from south Sulawesi as the immigrant. Gedambaan beach is the right choice for those who want to enjoy white sandy beach. This beach is administratively located in Gedambaan village, Pulau Laut Utara sub-district. There are restaurants, cottage…
---
Borneo Eco Trekking is the leading tour operator in Borneo of Indonesia. It is home for highly motivated people of Borneo in adventure and concerning for potential attractions of the nature and culture of the mighty island. However, they are great adventurers with zero accident experience. They have been boating their Borneo rivers, rafting their Borneo rapids, diving Borneo sea-beds, caving Borneo caves, trekking the Borneo jungles, hiking the Borneo hills, climbing Borneo mountains, and wandering Borneo wilderness tremendously. They dig further into the interior and interacting with the inlanders…
---
Bajuin Waterfall Bajuin waterfall is located in the Meratus mountain slopes. Not far from the waterfall, there is marble cave or Goa Marmer, it approximately ± 30 min by walking. This cave is unique because there are many cave wall marble that usually used for home tiles and form the cave like a dome of the mosque; in the cave, there are also lived by the nocturnal life of bats. This waterfall is located in Sei village, Bakar river, Pelainhari subdistrict, Tanah laut regency, South Kalimantan. www.Indonesia-Tourism.com
---
Radap Rahayu Dance Radap Rahayu traditional dance is the original dance from South Kalimantan. This dance is telling about the angels that falling from the sky and brought the wisdom of goodness for the people on Earth. Hence, this traditional dance is having purpose to be the thanksgiving and prayer, in order to make everything done well. Nowadays, this classic Banjar's dance is used to welcome the guest of honor that presented in wedding ceremony. The dancers are exclusively brought by women dancers. The numbers of the dancers are about…
---