Cahaya Bumi Selamat Park in Martapura City, Banjar Regency - Indonesia
---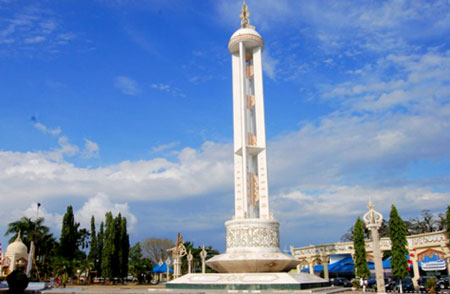 During a vacation in Martapura City, Banjar Regency in Indonesia, people should consider visiting Cahaya Bumi Selamat Park. Another name is CBS Park and it has become locals' favorite place to spend a relaxing time with families. The location is at Ahmad Yani Street, Cindai Alus Village. Not to mention it resides near to the famous diamonds shopping center (located in front of it). Many tourist agents also choose it as one of the most recommended places to visit in Martapura, having the same popularity as the Grand Mosque of Al-Karomah. Visitors can enjoy fun things here including relaxation, photography, and exercising.
The Nuance
People are impressed with Cahaya Bumi Selamat Park as it offers both peaceful and comfy nuance. Thanks to the presence of shady trees and beautiful plants. Not to mention the park features several unique statues and mini landmarks. Plus, it comes with kids' play rides including small cars, swings, slides, etc. That means parents can give good moments to the children during weekends. Somehow, the park helps them to build a stronger bond with family members!
Exploring Cahaya Bumi Selamat Park
So, what can tourists do in Cahaya Bumi Selamat Park? Like other squares? This place is suitable for hanging out and recreation. This explains why the number of visitors increases both in the morning and afternoon. The locals come to the park to exercise or relax most of the time. The only disappointment is that the local government prohibits food vendors and souvenir sellers to conduct the business there. The purpose is to keep the environment clean and neat, so visitors feel comfortable all the time.
As mentioned before, Cahaya Bumi Selamat Park is a good place for recreation, exercising, and hanging out. What is more? In some occasions, the locals conduct cultural and art events in this park. These include development exhibition, Asyura ceremony, the anniversary of Islamic year, New Year ceremony, etc. No wonder, the nuance becomes merrier during these ceremonies. As for tourists, they should choose the right date to come to the park if they don't want to miss those events. Thus, make sure to consult the tour agency regarding the schedule first.
Another good thing is that Cahaya Bumi Selamat Park is located adjacent to Ratu Zalecha Square. No wonder, many families with kids are seen on the site. Even some kids ply rides are available there! The rent fee is cheap and the facilities are excellent! Here is the fact. Several white tents reside on the park, on which tourists can rest during the exploration. Moreover, it is free to use such facility.
Nearby Attractions
Prince Muhammad's Tomb
Rita's Public Fishing Pond
Simpang Empat Roundabout
How to Get There
Have no worries. Cahaya Bumi Selamat Park is located near to Martapura City. The distance is only 3.1 km, so tourists only need to spend about 15 minutes to get there. As for the faster trip, they need to take Melati Street when heading to Cindai Alus Village.
Where to Stay
Raudhatul Husna Hotel
Diah Hotel
Airy Hotel
Yudilesmana Hotel

Latest News
  Gedambaan beach is known as Sarang Tiung beach, it located 14km from downtown of Kotabaru. Along the path to the beach, there will be exotic sightseeing like mountains view at the right side and ocean, beach and fisherman village at the left side. There are Bugis and Mandar Village community that coming from south Sulawesi as the immigrant. Gedambaan beach is the right choice for those who want to enjoy white sandy beach. This beach is administratively located in Gedambaan village, Pulau Laut Utara sub-district. There are restaurants, cottage…
---
Borneo Eco Trekking is the leading tour operator in Borneo of Indonesia. It is home for highly motivated people of Borneo in adventure and concerning for potential attractions of the nature and culture of the mighty island. However, they are great adventurers with zero accident experience. They have been boating their Borneo rivers, rafting their Borneo rapids, diving Borneo sea-beds, caving Borneo caves, trekking the Borneo jungles, hiking the Borneo hills, climbing Borneo mountains, and wandering Borneo wilderness tremendously. They dig further into the interior and interacting with the inlanders…
---
Bajuin Waterfall Bajuin waterfall is located in the Meratus mountain slopes. Not far from the waterfall, there is marble cave or Goa Marmer, it approximately ± 30 min by walking. This cave is unique because there are many cave wall marble that usually used for home tiles and form the cave like a dome of the mosque; in the cave, there are also lived by the nocturnal life of bats. This waterfall is located in Sei village, Bakar river, Pelainhari subdistrict, Tanah laut regency, South Kalimantan. www.Indonesia-Tourism.com
---
Radap Rahayu Dance Radap Rahayu traditional dance is the original dance from South Kalimantan. This dance is telling about the angels that falling from the sky and brought the wisdom of goodness for the people on Earth. Hence, this traditional dance is having purpose to be the thanksgiving and prayer, in order to make everything done well. Nowadays, this classic Banjar's dance is used to welcome the guest of honor that presented in wedding ceremony. The dancers are exclusively brought by women dancers. The numbers of the dancers are about…
---