South Borneo - South Kalimantan
---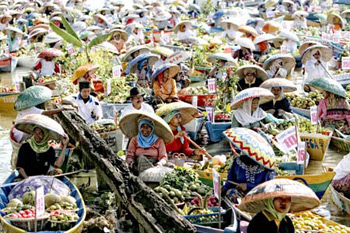 South Kalimantan is one of Indonesia provinces which is located on Borneo island. Its capital is Banjarmasin. The native people of South Kalimantan is Banjar tribe which is the majority of the total population. Banjar tribe which occupied the entire region of South Kalimantan consists of 3 major groups, namely Kuala Banjar, Banjar Banjar Pahuluan and Batang Banyu.
West side has borderd with Central Kalimantan province, Makassar Strait in the east, to the south by Java Sea and in the northern bordered with East Kalimantan province .
Mount Meratus divide South Kalimantan into two distinct regions. The southern part of the province is low land with rivers that runs through to the vast mangrove swamps along the coast and make Borneos' soil fertile. In South Kalimantan, you can enjoy nature tourism, include; many rivers, forests, lakes and mountains. Also its culture and heritage tourism like wide variety of art and culture.
There are many villages and residence buiil along Barito river by the native people of Banjar. Here you can enjoy the river culture in Banjarmasin as its own culture pattern. Most of of Banjarmasin people activities has done around river. That is why it's interesting to see the life of the city from the middle of the river. You can rent motor boats which are available on the river bank in order to begin the journey down the river past the withdrawal of a number of locations with a travel time of two to three hours. This is one of the most attractive tourist activity in the city and has a walk along the river and canal. In the suburban area, the river scenery still virgin and the visitors will take the journey along Martapura river and Barito river by Klotok boat and speedboat.
Beautiful traditional handicrafts made from local raw materials such as stone, gold, silver, brass, iron, and also various wood such as bamboo and rattan.The native people of South Kalimantan is Banjar tribes that essentially consists of sub-tribes, named; Maayan, Lawangan and Bukiat who get ethnic mixing with Malays, Javanese and Bugis. The main identity is the Banjar language as a common medium.

Latest News
  Gedambaan beach is known as Sarang Tiung beach, it located 14km from downtown of Kotabaru. Along the path to the beach, there will be exotic sightseeing like mountains view at the right side and ocean, beach and fisherman village at the left side. There are Bugis and Mandar Village community that coming from south Sulawesi as the immigrant. Gedambaan beach is the right choice for those who want to enjoy white sandy beach. This beach is administratively located in Gedambaan village, Pulau Laut Utara sub-district. There are restaurants, cottage…
---
Borneo Eco Trekking is the leading tour operator in Borneo of Indonesia. It is home for highly motivated people of Borneo in adventure and concerning for potential attractions of the nature and culture of the mighty island. However, they are great adventurers with zero accident experience. They have been boating their Borneo rivers, rafting their Borneo rapids, diving Borneo sea-beds, caving Borneo caves, trekking the Borneo jungles, hiking the Borneo hills, climbing Borneo mountains, and wandering Borneo wilderness tremendously. They dig further into the interior and interacting with the inlanders…
---
Bajuin Waterfall Bajuin waterfall is located in the Meratus mountain slopes. Not far from the waterfall, there is marble cave or Goa Marmer, it approximately ± 30 min by walking. This cave is unique because there are many cave wall marble that usually used for home tiles and form the cave like a dome of the mosque; in the cave, there are also lived by the nocturnal life of bats. This waterfall is located in Sei village, Bakar river, Pelainhari subdistrict, Tanah laut regency, South Kalimantan. www.Indonesia-Tourism.com
---
Radap Rahayu Dance Radap Rahayu traditional dance is the original dance from South Kalimantan. This dance is telling about the angels that falling from the sky and brought the wisdom of goodness for the people on Earth. Hence, this traditional dance is having purpose to be the thanksgiving and prayer, in order to make everything done well. Nowadays, this classic Banjar's dance is used to welcome the guest of honor that presented in wedding ceremony. The dancers are exclusively brought by women dancers. The numbers of the dancers are about…
---